Industrial Building Maintenance, Southeast MI
---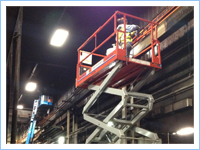 FRISKE Maintenance Group has over 35 years of experience in industrial maintenance and repair services.
Our typical customer has manufacturing operations running around the clock and requires services to be performed without interfering with production schedules. We understand these requirements and thrive in the manufacturing environment.
The FRISKE crews service challenging industries such as foundries, heat-treating plants and steel processing plants. Our crews also service stamping plants, automotive parts suppliers, R&D facilities, chemical plants and the high tech industry.
Contact us today for a free quote!
Satisfied Clients:
"Bill and the crew from FMG have performed a variety of renovation and plant cleaning & painting services for my company's three locations. I have been very satisfied with each and every project that they have undertaken. I highly recommend FMG and will continue to use their services in the future."
- JP Hanaway, General Bearing Corporation
Read More Testimonials