Roofing
---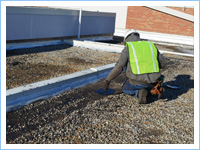 FRISKE Maintenance Group can handle all of your rooftop repairs. The FRISKE crew is one of the few area firms willing to diagnose and repair nuisance roof leaks. You will increase the life of your roof and interior decking by addressing nuisance leaks before they cause permanent roof or deck failure. Our crews are happy to detect and repair small leaks. We can provide large area tear-offs and replacement. Of course we can engineer an entirely new roof system for you as well.
Your satisfaction is guaranteed and most work is covered under an extended warranty. Our crews are well trained, supervised and have an excellent safety track record.
Our team is prepared to tackle any roof repair task, to include but not limited to:
Rubber Roof (EPDM) Systems - Mechanically Attached, Fully Adhered, Ballasted
TPO/ PVC Modified and Built-up Roof Systems
Metal and Spray Foam Roof System
Emergency Leak Inspection & Repair
All Types of Spot Repairs
Re-Roofs/ Deck Replacement
---
Testimonials:
"FRISKE Maintenance Group was called out to find the source of some irritating leaks on the roof of the Tachi-S R&D facility. Ron and Jeff from The FRISKE crew found the source of the leaks. Nice repair job!"
Tom Kralik
Tachi-S Engineering USA, Inc.
---
View Our Work: