Painting
---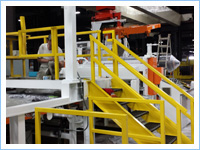 FRISKE Maintenance Group offers commercial and industrial painting services. We can paint most any surface throughout your facility. Our skilled painters are able to work 1st, 2nd, or 3rd shift, 7 days per week to minimize the disruption in your facility.
Our team is prepared to tackle any painting challenge from the plant ceiling to production equipment, down to the plant floor. Our service offerings include but are not limited to:
Production Equipment Painting - Furnaces, Machines, Presses, Stamping Equipment
Plant Wall Painting - Block Walls, Corrugated Steel Panels, Structural Steel Beams, Vinyl Insulated Panels, Drywall
Plant Ceiling Planting - Deck, Trusses, Duct Work, Pipes.
Plant Floor Coating - Paint, Urethane, Epoxy Coat
Plant Floor Line Stripping
Misc. - Columns, Crane Rails, Guard Rails, Bollards, Man Doors and Overhead Doors
Interior and Exterior
---
Testimonial:
"The FRISKE crew renovated our entire front office area. They replaced all of our carpeting and vinyl tile. They also repainted everything; offices, restrooms, lunchroom and lobby. We were very pleased with the end result and will continue to work with FMG."
Steve Cortis
New Boston Forge
---
View Our Work: