Parking
Lot Repair
---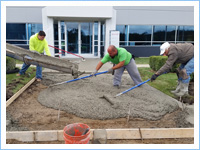 FRISKE Maintenance Group can handle all of your asphalt or concrete repair. The FRISKE crew can extend the life of your parking lot and help prevent injuries by addressing pot holes and uneven asphalt or heaving concrete. For large area repairs we offer asphalt overlay, milling and paving and even parking lot total removal and replacement. Our crews are well trained, supervised and have an excellent safety track record.
Our team is prepared to tackle any parking lot repair task, to include but not limited to:
Asphalt Repair - Pot Hole Patching
Asphalt Paving - Milling or Removal & Replacement
Parking Lot Construction - Complete Removal and Replacement
Seal Coating / Hot Rubber Crack Filling / Striping
Concrete Repair - Sidewalk, Curbing/ Gutter or Parking Lot Repair
Catch Basin Repair
Excavation
---
Testimonial:
"The concrete ramp that the FRISKE crew install at the entrance to our building has held up very well these past two years – great job!"
Quinton Merrick
Recticel North America, Inc.
---
View Our Work: